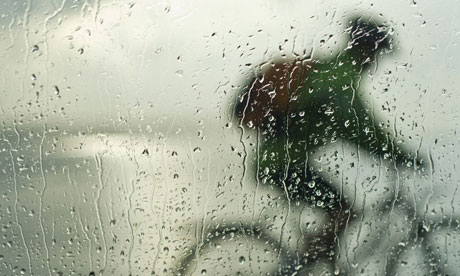 Forget it!
Well, there are solutions, but you have to prepare a little harder for it. But if you are thinking that riding a cycle is going to be the same as winter then forget it. If you are willing to work a little then read on.
1. Get proper mudguards. Not the toys available in the stores of Dhaka. The best ones are the ones that you see in Hero Ranger Max bikes which cover the wheels from a very close range. Something similar to this will be properly useful. Otherwise they are not much of help
http://www.xxcycle.com/mudguards-zefal-paragon-26-black-60-mm,,en.php?FROM=froogle&wwp=44
2. No mudguards? Then take two sets of clothes. Also get a bag cover. That way you'll be all covered in mud by the time you get to office, but can change into something decent when you get there. But this requires your office to have a shower
3. This is the most practical solution at the moment. Get a pair of mudguards, whatever is available locally. Mount them as close to the tires as possible. Then forget about speed. Avoid puddles at all cost. On the dry stretches do not cross 20kmph, on the wet parts stick to 13-15kmph.
4. Slicker tires pick up less water, get smooth tires. Ride carefully as you'll have much less grip now.
5. Clean your drivetrain everyday. The moment you get home, wipe all the water from the chain and cassettes. Then put some machine oil on it
Happy cycling